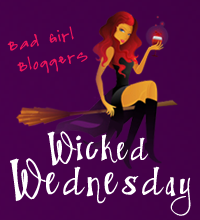 I've decided this week to hook up with the Bad Girl Bloggers for Wicked Wednesday! I know, it's SOOOO not like me, but here it goes!!!!!!!
Their choices for this week are the most embarrassing moment you've ever had or best orgasm.
I'm going with embarrasing this week.
Back when Hubby and I were dating, we were on a cruise to Key West and Cozumel on Royal Caribbean. We had decided to "take a nap" in our room *wink wink.* Things were getting hot and heavy when our room steward walked in on us - OOPS! Dimwitted me had forgotten to put the little "Do Not Disturb" thingie on the door.
Needless to say, that little african dude got to see more of my tail than I would have liked. I couldn't look him in the eye the rest of the trip.